Bigger doesn't always mean better in survival and this rifle is a perfect demonstration of that concept.  No, I'm not talking about owning a 22 caliber rifle – although those are excellent as well.  What I'm talking about is something even simpler, cheaper and more effective!
An Air Rifle – The Perfect Survival Tool
When you think about preppers and survivalists, I would argue AR-15s and AK47s come to mind in the firearm/security arena.  While these are great for battle files, they are not very practical for other aspects of survival – mostly hunting.
Many of the downsides to having a hunting or battle rifle are:
The rifle is heavy
Rifles are expensive
The shot is very loud
Ammo is expensive and sometimes difficult to find.  This is especially true with 22 caliber rounds today.
Ammo is heavy and takes up room
You normally don't have frequent opportunities to catch big game.
Now, let's look at an Air Rifle for hunting:
Some are heavy, but comparably less weight to a real rifle.
Some models accept 22 caliber pellets and can shoot as fast as a 22 rifle (feet per second).
Although some cost as much as a real rifle, the majority cost significantly less (hundreds of dollars less)!
The shot is not nearly as loud as a rifle
Ammo is incredibly cheap!!  1000 rounds cost a mere $15 at some retailers!
Ammo is plentiful!!  I can't imagine people bum-rushing the store for air pellets if another democrat president takes office.
The ammo  is very small.  A handful of pellets can equal several magazines for a rifle.
Since it's not classified as a "real gun" making a homemade silencer for the air gun is legal.  However, please check with ATF regulations.  There are some instances of where a jury convicted a person who made a homemade air gun silencer simply because it "could have" easily attached and been used as a silencer for a real firearm.  Here's some reading on that topic.
Small game is everywhere in a survival situation.  Birds perched on branches, squirrels, rabbits, possums and more can easily be taken down with a pellet rifle.
It's a great way to teach kids firearm safety prior to progressing to a 22 rifle or higher caliber.
So, you see…a pellet rifle is an amazing tool for acquiring food for the table in a SHTF event, or even a long drawn out depressionary phase.  I own one myself, and would most likely find myself using it and conibear traps to put the majority of the food on the table.
A popular model of airgun selling on amazon is the GAMO 0.177 Caliber Hornet rifle that shoots at 1200 FPS. It has a single break-barrel cocking system which I really enjoy.  Personally, I think that's the only type you should look at.  You do not want to be pumping a lever 20-40 times, nor rely on Co2 cartridges for your propellant.
Gamo also makes a very popular air rifle with built in suppressor that reduces the noise by 50%
And, as I stated before, pellets like this 1250 count of 0.177 caliber crossman pack are only $15.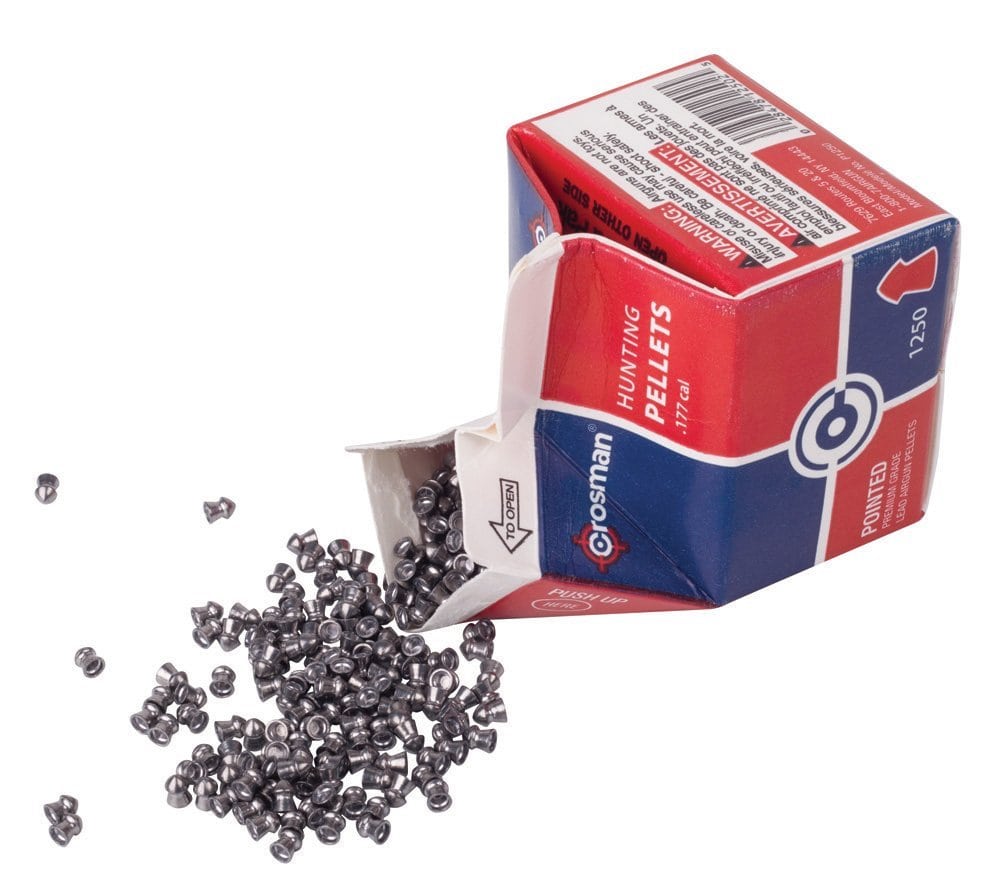 The above setup costs  a mere $115.  However, as always with any sport, there are much more durable and high performing air rifles available at higher prices.  Vendors like MidwayUSA or AirGun Depot have a very broad selection of air rifles.
Lastly, I must make mention that you should not look into "Airsoft Rifles".  These rifles typically operate at much lower velocities and require springs, gas or electricity to propel the bb's.  When researching, make sure you are going for a "air pellet rifle" and not a "bb gun" or "Airsoft" rifle.
Summary
I honestly think all preppers should have an air rifle because of how useful they can be, and how cheap and readily available they are.  As I discussed in my article "Prepping for a slow collapse vs. a BIG event", a slow depression might be the way our country crumbles.  By having an airsoft rifle, snares, and conibear traps, you can easily help feed your family with small game.