In my 3+ decades of living on this earth, I've gone on countless camping trips sleeping on the ground in a tent.  There is not one time that I can remember having an enjoyable night's sleep.  To that, I say NO MORE!
Honestly, can you ever remember getting a good night's rest while sleeping on the ground?  Even with some of the most technological $100+ sleeping pads, there is nothing you can do to be comfortable laying on cold, solid earth.  Maybe it's just me not being stoic enough…  Aside from the hard earth, I always remember waking up cold and damp.  It's no wonder people switch over to RV camping when they get older!  The only other options you have is bringing an inflatable mattress with you which weighs about 10+ pounds (only practical for silly lawn camping), or sleep outside of the tent on a bushcraft bed of spruce, leaves, or other soft material.
However, there is yet another option.  Hammock camping is starting to become more mainstream although it's probably been around for decades.  I was first introduced to the economy hammock brand Eagles Nest Outfitters (ENO) about a year ago when shopping at REI.  For about $60-70, you can pick up a single nest or double nest hammock.  At that price, you only get the hammock with no bug net or tarp.  To add each of the other components, you are looking at another $60 per piece.   The difference is simply amazing!  They are super compact/light weight (plus no poles), can be set up in less than 5 minutes, are super comfortable & breathable, AND can be used in all four (4) seasons (with applicable insulation)!!
After I slept in the ENO Doublenest for a couple of trips (and yes, I recommend the double or large size of any hammock for comfort reasons), I wanted to upgrade to something better as I knew I would ditch tent camping FOREVER!
Although there are several brands of hammocks out there, I was debating on the Hennessy Expedition Hammock ($160 for hammock and tarp) recommended by Dan's Depot (Video), or the Warbonnet Blackbird XLC recommended by Sigma 3 Survival (Video).
After reading multiple forum reviews of the two, it seemed almost unanimous to spend the extra money on the Warbonnet XLC (Hammock + Superfly tarp @ $330).  The reasons for upgrading from the ENO are many, and are covered best by the Dan's depot or Sigma 3 survival videos above.  They include aspects such as "lay-flat" comfort, stability, durability, rain protection and more.
Why you should try from a prepper POV
From a comfort and ease of use perspective, I think outdoor people will love to camp via a hammock.  However, it does have prepper/bug out benefits as well.
Weight – Using the Warbonnet hammock + tarp as an example, the total weight is only 2.8 pounds.  An excellent choice to not weigh down your Bug out bag.
Speed of setup & disassembly – As I mention, you can set one of these up between two trees in under 5 minutes.  This is very important when time is of the essence.
Psychological Implications – If you are unfortunate enough to have to bug out on foot, you are likely under a lot of stress.  Sleeping on the cold hard ground and not getting any sleep will make it so much worse.  The least you can do is have a comfortable sleep.
How to Hammock Camp
Hammock camping is simple, but you don't just sit down the middle of the hammock and end up like a banana.  The trick is to keep the hammock loose, and sit off center of the hammock so that you can lay flat.  This Article – The Hammock Angle: How To Relax (And Sleep) Comfortably In A Hammock, Even If You're A Side Sleeper, is an excellent reference!
Laying flat is not only good for your comfort, but it's especially important in cold weather.  If you feet are highly elevated in the banana shape, you are essentially drawing blood away from your feet.  On a very cold night, it will result in greater chance of frostbite.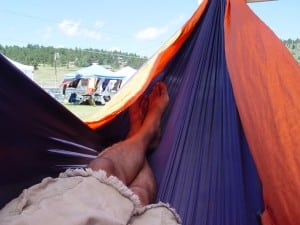 ENJOY!  I know you will!